OCTOBER 6 2020 The Cessnock Advertiser
October is Breast Cancer Awareness Month, and three local businesses have banded together to support the National Breast Cancer Foundation.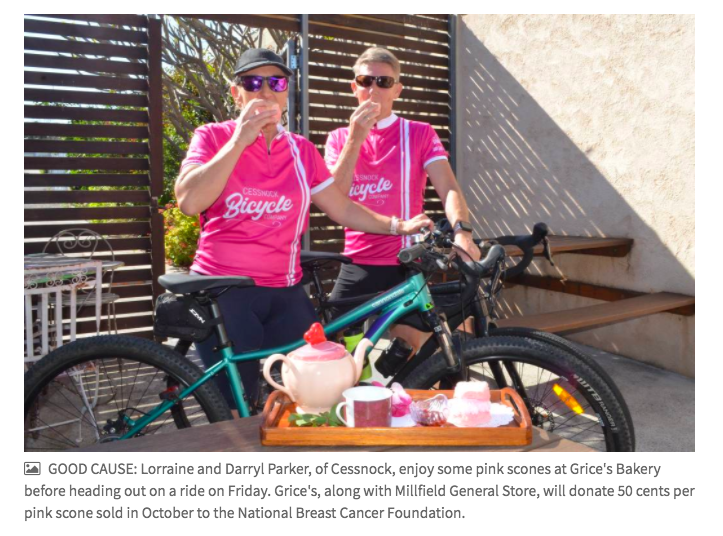 Cessnock Bicycle Company has partnered with Millfield General Store and Grice's Bakery and Cafe for the Pink Scones initiative.
Cyclists are encouraged to ride to Millfield or Cessnock and enjoy a pink scone, with 50 cents from every pink scone sold in October to be donated to the foundation.
Cessnock Bicycle Company also has limited-edition pink riding jerseys, with $25 from every jersey to be donated to the cause.
The foundation is committed to funding research to reach one determined goal: zero deaths from breast cancer by 2030.

Shop owner Steve Whitby said the charity was chosen by one of the ladies' riding group members, who works at Calvary Mater Newcastle.
He said the shop had always been planning to do a fundraiser for breast cancer awareness month, and while COVID-19 prevented a large event, they came up with an idea that could run throughout the whole month.
Riders will receive a #PinkScones wristband for taking part in the initiative (available from October 15), which will be part of a larger program of coloured wristbands for cycling challenges. READ THE FULL CESSNOCK ADVERTISER article click here.