Made for making worlds — or getting ice cream.
Two important rules to live by are 'dance like no ones watching' — and 'ride it like you stole it'.
Somewhere in the middle is probably a good place to find your freedom. Epic bikes can help. It's incredible where they can take you. A bike reveals the world differently. Trains let the world pass by. Walking the world takes forever. But a bike… it ebbs and flows. It cruises and surges, it can rage against the machine and float like rolling stones. A bike brings you the world. Your world. Roaming and dreaming. Young or not. Most of all, a new epic bike insanely styled from another time reminds you that the world keeps on turnin' and so will you.
Your epic bike is easy — easy like a Sundae morning.
Black Licorice 20"
Skateboarders are different. They have this finely tuned ability to find freedom in risk. They also help define culture then, now and new. Most navigate the city, their neighbourhood, parks (and any place really) with a flow. When they get on a bike, the flow comes with them. It may just be to the corner store. Picking stuck licorice from teeth on the way back riding with a kind of glide. The lines skaters take feel out the road, sweep around the bends, push out from the curb and arc across the expanses. It looks like music and sounds like fun. 20" wheels, banana seats and spring forks with nostalgic aesthetics and touches of gold all shrouded in the blackest of heavy metal black. Skateboarders remind us to not take life too serious, they show us to take life on. Young or not, everyone deserves to feel freedom. Take a different line with this bike. Go get some licorice stuck in those teeth.
Icy Chrome 20"
How good is riding to the beach with friends and going for a surf or swim or whatever, then having an icy pole? One of the great simple pleasures in life. How good is riding a bike home in the late afternoon with no shoes and wet flowing hair in the summer breeze? That's two examples of epic good. You can be old or new, the feeling is eternal. A new bike is an eternal joy for your soul. Super shiny, with 20" wheels, a curvy frame, banana seat and spring forks that feel nostalgic for the past but can only be from 'right now' as you shake the sand out of your towel, ears and smile. The simple summer day reflects off the chrome frame as it lays on the front yard grass with your friends and their wet heads, icy pole grins and a reminder that some bikes are not for climbing hills, beating time trials or sitting in packs. They only exist to better your life in the coolest way. One icy pole at a time.
Pink Lemonade 20"
'The world is yours' — Sweet. That's the feeling of a new bike. Pink Lemonade is sweet. It tastes like the best summer you ever had and the sunglasses your best friends all got too. It's not possible to love those friends and summer and sunglasses more. That's also the feeling of a new bike. You love it and it gives back — Sweet. A Pink Lemonade bike exists specifically to make your day epic. (That's not a fact but it definitely feels close) Pretty in pink, this bike sits on 20" wheels and features nostalgic aesthetics, banana seat, spring forks and a sissy bar to make cruising to school or along the boardwalk stylish and functional — Sweet. Kinda feels like all your friends should have the same bike so the epicness is shared. Imagine a whole bunch of these shining in the sun to match the possibilities of all your futures. First or next bike, the world is yours in sunglasses and Pink Lemonade — Sweet.
Black Licorice 26"
Some things only work if they're heavy. The loudest music is like that. Same for bikes. There's satisfaction in cruising through your neighbourhood on a solid, heavy frame and epically smooth tyres. We're not exactly sure..but we also believe that the deepest, heaviest, licorice inspired matt black paint also adds extra heaviness to the enjoyment. It's technical. Like memories of your first concert, or last weekend, there's a nostalgia for the aesthetic of this black beauty. From the curve of the frame, the banana seat, spring forks, 26" wheels and feel on the street, we've even managed to give you flashes of gold inspired by amplifier dials and the wall of sound. Ride to the corner store with friends. Choose the deepest, heaviest black licorice (ok..or ice cream) Turn up your volume. Turn it up again. And Enjoy. Heavy Metal never grows old.
Icy Chrome 26"
Roam. You can take that feeling anywhere — the feeling of freedom. Through big cities. Cool neighbourhoods. Back blocks and front yards. Roaming. Think of the Icy Chrome like a shiny stylish transporter. It may take you for a surf at a fun summer beach break. Find you at tomorrow nights party or coasting local roads for coffee. And like most things, if you're not having fun, you're not doing it right. 26" wheels, banana seat, spring forks and most noticeably, an epic modern classic aesthetic for the discerning commuter. There is a dose of nostalgia to the Icy Chrome. The best bits of looking back…words like 'quality and craft' or bands like 'Aerosmith' and 'Blondie'. Both of which loved to roam all over the world. But it's the future which is now. And the incredibly shiny mirror finish on the Icy Chrome reflects only one face. Yours. So go roam.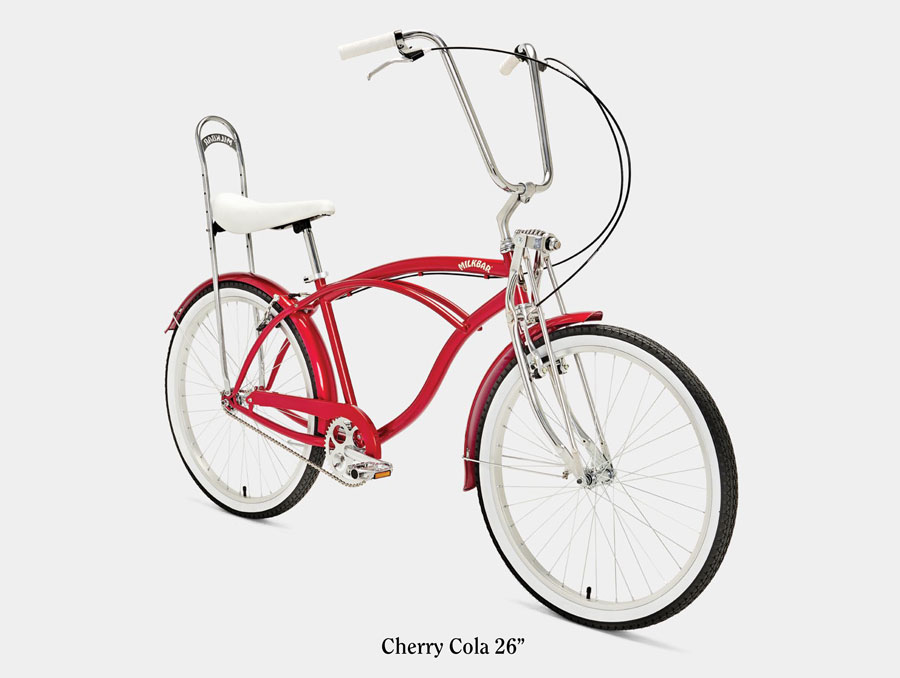 Cherry Cola 26"
The world is full of songs. One of them is Aerosmith's 1975 anthem 'Sweet Emotion'. We're pretty sure if you combine this song with a ride through the park, or neighbourhood, or to your friend's house in summer, you'll have the most infectious smile that you have ever smiled. People you don't know will smile back. We think that a good bike makes the world go round, and an epic bike — can turn your world around. This thing is 100% good vibes. The wonderfully luxurious Cherry Cola paint is dripping straight from a nostalgic era where Soda-Pop flowed forever… 26" wheels, banana seat, spring forks and the retro-modern aesthetic makes you want to dance and dream and ride with your mates to the pool and work, and to the local record store where staff don't usually smile at the customers too much because they know more about music. Look, it's true, we haven't seen Steven Tyler on a bike lately. But he has a great smile. And the record store crew will too. Because of you — and the Bike.