Are you looking for a social gravel/road ride? This monthly ride has 65km with 1000m of climb on a combination of road and gravel. It's fully guided, and free to join.
The rides happens on the first Sunday of every month, and follows a loop around Cessnock. There's no designated start or finish point – you can join the train at any of the eight scheduled stops. Here's the map of the route: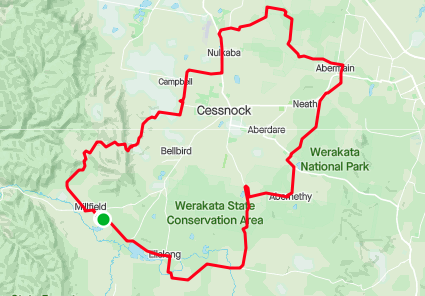 Earlybirds can start at the Millfield General Store. There's plenty of parking and its a nice spot for coffee before the trip home.
The schedule is set for a moderately paced road ride. The gravel sections have a much slower pace to enjoy the surroundings.
location
leaves
distance kms
surface
Millfield General Store
07:00
6
Road
Ellalong Pub
07:20
12
Road
Kitchener – Cnr Cessnock & Abernethy
07:50
6
Road
Kearsley – Cnr Allandale & Caledonia
08:10
10
Road & Gravel
Abermain Hotel
08:30
5
Road & Gravel
Old Maitland Rd – under the powerlines
08:45
11
Gravel
Nulkaba – Cnr Londons & Lovedale
09:20
4
Road & Gravel
Saddlers Creek
09:45
6
Road & Gravel
Bimbadeen Lookout
10:30
10
Road & Gravel
Millfield General Store
arrives 11:00 am
Total 70 Kms
We recommend you arrive at least 5 minutes early at your start point to ensure you catch the train if it's early. We'll never be more than 5 minutes early, but we could be up to 5 minutes late.
Find the full course at https://www.strava.com/segments/29339900
Follow the facebook event at https://www.facebook.com/events/515029259637366
If you have questions then email us social@cessnockbicyclecompany.com.au!